We Mean Business
Founded in 1995, the Port Washington B.I.D. has initiated long lasting improvements for the commercial district. With the support of former Nassau County Legislator Craig Johnson and former County Legislator Wayne Wink, the Greater Port Washington Business Improvement District (BID) was awarded $50,000 in funding for street-scape improvements from the Nassau County Office of Housing and Intergovernmental Affairs through the County's Community Redevelopment program. Combined with $160,000 raised by the BID through a bond issue in 2002, many physical improvements have been made around the town. This includes all of the brick paving, tree wells, new trees and plantings, pedestrian benches and nautical-themed street signs to name a few.
See how the BID can help your business!
Beautification
A key goal of the Greater Port Washington Business Improvement District (BID) is to help make Port Washington's major shopping districts visually appealing for consumers.
Our Keep Port Clean campaign hinges on enhanced street sweeping services which we provide by contracting for professional services.
To enhance the beauty of our LIRR station each spring, the BID plants beautiful flowers in the four LIRR tree beds.
Every May, the BID places 148 beautiful geranium hanging baskets along Port Commons and Main Street.
Holiday Lights
The holiday snowflake lights attached to the telephone poles from Thanksgiving to January are another BID contribution to help make Port Washington's business areas more attractive to residents and visitors.
Installation of 40 Benches
Another BID led enhancement is the installation of 40 benches on sidewalks throughout the district. The BID began installing the benches in March 2004, and all are now in place. Installation costs were reduced thanks to the special inter-municipal agreement with the Town of North Hempstead, which enabled the BID to use labor from the town's workforce.
1890 Style Clock

While enjoying the lights or resting on a bench, people are able to check the time by the cast iron, 1890s style clocks. The BID purchased and installed four of these clocks around town.
Corn Stalks
Each fall, the BID places corn stalks on telephone poles and lamp posts around Port Washington to enhance a festive autumn atmosphere.
Nautical Themed Street Signs
Nautical-themed street signs were sponsored by the BID, adding charm to the commercial streets.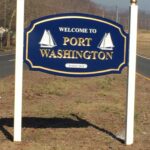 Welcome to Port Washington
The BID has placed a beautiful "Welcome to Port Washington" sign on West Shore Road. "Welcome to Port Washington" sailboat banners are hung along Port Washington Blvd, Main Street, Shore Road, Manorhaven Blvd, the LIRR train station parking lot and town dock.
With sailboat illustrations and the words "Settled in 1644." These signs provide a cheerful welcome while conveying our longstanding nautical heritage.
New York Main Street Grant Program
The BID was awarded a grant from New York State to be the licensed program administrator (LPA) for the incorporated Village of Manorhaven for facade and streets-cape improvements of the village's downtown commercial corridors. The states investment of $85,000 directly stimulated more than a $250,000 in actual shovel-in-the -ground projects, with more being done through private-sector initiatives. Thanks to the NYMS program the revitalization effort the incorporated village needed for its downtown area is well on its way.
Marketing
Promoting Port Washington as a destination is a priority for the Port Washington B.I.D. By leveraging multiple media platforms, we entice visitors to explore and enjoy all that Port Washington has to offer.
Try Port First – The app that allows you to find everything Port Washington from the palm of your hand. Easy to use. Free to download. Search ON THE WATER,EVENTS, DINING, PLAY AND STAY and so much more. The Try Port First app is a collaborative project with the Port Washington Chamber of Commerce. Together we manage the Try Port First social media pages to engage and inform the community. Stay current with @tryportfirst on Facebook and Instagram
Destination Port Washington – Whether you are planning a "stay-cation" or weekend getaway, make Port Washington your Destination. We placed our Destination Port Washington campaign in key regional and local print and digital platforms to market the entire business community. Make Port Washington your Getaway has made nearly 300K impressions in the first 3 months.
Events
PORT OUTDOORS – began in response to the challenges of the COVID pandemic, Port Outdoors was born and has now become an annual fan-favorite event. Each year a series of Thursday evenings draws the community together to dine, shop, and enjoy live music and celebrate the best Port Washington has to offer.
RESTAURANT WEEK – the annual foodie event offers prix-fixe menus at Port Washington's favorite dining locations.
HALLOWEEN ON MAIN – Port Washington merchants welcome all young ghosts and goblins in a fun, safe environment.
HARBORFEST DOCK DAY AND CRAFT FESTIVAL. Organized by the Chamber of Commerce, the BID is always one of the major sponsors of Harborfest Dock Day and Craft Festival. As such, BID helps to fund the event, as well as support and promote Harborfest. With activities centered on the town dock and lower Main Street, Harborfest draws up to 20,000 visitors, many of whom come from out of town, generating increased awareness of Port Washington's shops, restaurants and other businesses. BID also sponsors the trolley that shuttles visitors to and from the event sites and railroad station.
 Always remember to shop locally as your business directly affects this community and all it has to offer.